The parade will be held on Saturday, June 3rd at 10:00 a.m. We invite you to celebrate our great City of Westbrook with a float, costume, sign, banner, or decorated bicycle in this year's parade. Moving musical and dance performances are welcome as well.
If you or your organization would like to participate in this year's parade by marching, riding in a car, riding on a decorated bicycle or entering a float, please download the application below and submit your completed application by May 15. Confirmation letters and line-up instructions will be sent out on May 22nd. As part of our effort to go green this year, we will be e-mailing letters, instructions, and maps whenever possible rather than sending hard copies.
Parade line-up will begin promptly at 8:45 a.m. on Saturday and each group must have a point person to check in.  The parade begins on Lincoln Street, heads down Bridge Street and continues up Main Street where it ends at  Riverbank Park.  (See Parade Map below)
We are looking forward to Celebrating Westbrook with you!
Click here for parade application! For further information, please email Dick Durgin at richard.durgin@century21.com.
Lineup Directions – Click to enlarge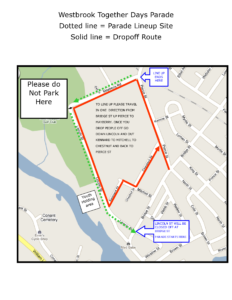 Save
Save
Save