Westbrook-Gorham Community Chamber of Commerce presents:
WESTBROOK TOGETHER DAYS
June 2nd and 3rd, 2017

Westbrook Together Days is a 2-day festival that is fun for families and residents of all ages! Come down to Riverbank Park on Friday from 4 PM – 10 PM and all day on Saturday from 7 AM – 10 PM. There will be carnival rides, food, entertainment, and fireworks – fun for the whole family! This event typically attracts 15-20,000 people and this year is Westbrook's 38th Annual Together Days event!
Thank you to our generous sponsors for supporting Westbrook Together Days!
Activities
Westbrook Together Days has lots of activities to engage families, children, and adults!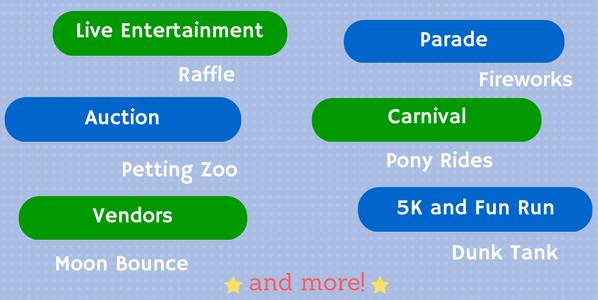 This is a city wide event that several businesses and citizens volunteer their time and money to make it the success that it has become. In 2010, WTD was awarded the Spirit of America Award for volunteerism in Maine and continues to bring pride to the community.
We recommend checking back to this site and liking us on Facebook at Westbrook Together Days or Twitter @WestbrookTD so you can get updated information about the event each year!
We invite you to browse our website to learn more about WTD and we hope to see you at the event!

Save
Save
Save
Save
Save
Save
Save
Save
Save
Save